Florian Mair
Florian is currently working as Scientific Director of Cytometry and Senior Scientist Immunology at ETH Zurich, Switzerland. After graduating with an MSc in Molecular Biology from the University of Vienna, her received his PhD in Molecular Life Sciences from the University of Zurich in 2014, and spent several years at the Fred Hutchinson Cancer Research Center in Seattle, USA. During the past decade, he has been involved extensively with different cytometry platforms (conventional, spectral and mass cytometry) as well as scRNA-sequencing techniques, including multi-omic methods. His main scientific interests are the function of dendritic cells
John Nolan
John Nolan is a Professor at the  Scintillon Institute in San Diego where his group develops new tools for cell and molecular analysis. Recently, his lab has focused on the measurement of extracellular vesicles, developing high resolution multiparameter single Vesicle Flow Cytometry (vFC) for the quantitative counting, sizing and cargo measurement of individual EVs. He is also founder of Cellarcus Biosciences, which offers EV analysis products and services. He is a Fellow of the American Institute of Biological and Medical Engineering (AIMBE), former Director of the National Flow Cytometry Resource at Los Alamos National Laboratory, Past-president of the International Society for Advancement of Cytometry (ISAC), and a member of the Editorial Boards of Cytometry and Current Protocols in Cytometry.
Geoff Osborne
Geoffrey Osborne is Director of Special Order Research Products for BD Biosciences, based San Jose, CA, USA. He leads a team focused on meeting customer needs by engineering technology advances to modify flow cytometers to fit unique roles. Prior to taking his current role he was Director of Flow Cytometry for both Queensland Brain Institute and the Australian Institute for Bioengineering and Nanotechnology, at the University of Queensland, Brisbane, Australia for 13 years. In this position Mr Osborne lead a team that provided crucial cell sorting and analysis services to researchers both within QBI and across the broader university. The laboratory specialised in the analysis and separation of cells derived from a variety of sources such as solid tissue, blood and cultured cell lines. In addition he held a Faculty research position where his interests were in the application of flow cytometry in stem cell research, brain tumours, novel assay development encompassing not only biological assays but also hardware / software development projects. Mr. Osborne holds a B.Sc. from The Australian National University (1993) and an Associate Diploma in Applied Biology from the Queensland University of Technology (1983).
Zosia Maciorowski
Zosia Maciorowski received her B.Sc. in Microbiology from McGill University in Montreal and M.A. in Biology from Wayne State University in Detroit. She has worked in many labs and countries over the years on a variety of different subjects, from the early days of tissue culture to small animal surgery, monoclonal antibody production and early immunological and molecular biology techniques. In the 80's she specialized in solid tumor preparation for multicolor and cell cycle analysis. For 28 years she was responsible for the Flow Cytometry Core Facility at the Curie Institute in Paris, France, from which she is now retired. Zosia is Co-Chair of the Live Education Task Force of the International Society for Advancement of Cytometry (ISAC) which has organized international flow cytometry workshops around the world.
Maria Jaimes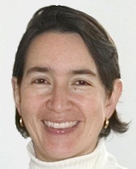 Dr. Maria Jaimes earned her MD degree at the Universidad Javeriana in Colombia (South America)
Dr Jaimes completed her postdoctoral training at Stanford University in the department of Microbiology and Immunology. During her postdoc, she worked at characterizing the immune responses to both rotavirus and influenza viruses after natural infection and immunization.
In 2005, Dr Jaimes joined BD Biosciences.  While at BD, Maria worked in different aspects of quality assurance and standardization of flow cytometry assays. As part of the R&D reagent team she participated in the development and testing of new dyes and was also involved in the development and characterization of new instruments and software like FACSuite, FACSLyric and 10 Color Canto.
Since 2015, Maria has been working at Cytek Biosciences and is part of the R&D team who developed the Aurora Full Spectrum Cytometer. Dr Jaimes has overseen the instrument characterization, verification and development of multicolor applications. Besides her responsibilities within the R&D team, Dr Jaimes leads the Technical Applications Support team worldwide.
Paul Wallace
Professor Emeritus of Oncology and Previous Director Department of Flow & Image Cytometry at Roswell Park Comprehensive Cancer Center, is recognized for his expertise in clinical flow cytometry with a strong background in immunology and research interests in antigen processing and presentation. He is Past President of the International Society for the Advancement of Cytometry (ISAC) a past Councilor of the International Clinical Cytometry Society (ICCS) and 2018 recipient of their Wallace H. Coulter award for lifetime achievement in clinical cytometry.Dr. Wallace Directed Roswell Park's Flow and Image Cytometry for 19 years where he actively worked to build translational synergies between clinical and research flow cytometry. The clinical laboratory focused on the diagnosis and monitoring of patients with leukemia and lymphoma with an emphasis on minimal residual disease. Before joining Roswell Park, Dr. Wallace was an Assistant Professor of Immunology at Dartmouth Medical School, Lebaonon, NH (1993-2003); a cofounder of Zynaxis Cell Science, Inc., Malvern PA (1988-1991) the company that developed the PKH tracking dyes, and supervisor of Microbiology, Immunology, Serology, and Flow Cytometry at SmithKline Clinical Laboratories. He obtained his PhD from the Medical College of Pennsylvania in 1993 and his Masters from Idaho State University in 1979.
Andy Filby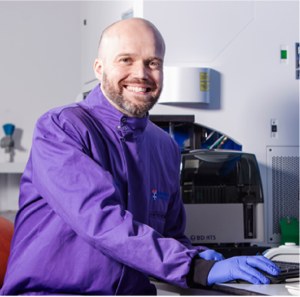 Dr Filby is currently the director of the Newcastle University Flow Cytometry and Single Cell Technologies Shared Resource Laboratory.  He also leads the "Innovation, Methodology and Application" (IMA) crosscutting research Theme in the Faculty of Medical Sciences (FMS) overseeing  ~350 members from different technology and methodology backgrounds that includes both academic and technical job families. Dr Filby is also a director of the Newcastle University Centre of Research Excellence (NUCoRE) in Biomedical Engineering.  Dr Filby and his team have an active programme of research that includes the development of novel methods for single cell analysis and evaluating new technologies.  He publishes in high impact journals such as Science and Nature and sits on several funding panels for equipment grants.  He recently won the Times Higher Education (THE) "Outstanding Technician of the Year" 2021 for his work on breaking down barriers and establishing parity of esteem for non-academic researchers.
Tomas Kalina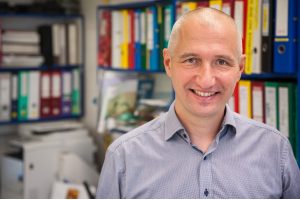 Website:  http://www.lf2.cuni.cz/clip/
I am currently a Professor at the Department of Pediatric Hematology and Oncology, Charles University in Prague, 2nd Faculty of Medicine, Czech Republic. I graduated MD in 2000 from the 2nd Medical School, Charles University Prague and started my research and diagnostic carrier in Prague (leukemia diagnostics and biology) and continued on a postdoctoral fellowship at Fred Hutchinson Cancer Research Center, Seattle, WA, USA (immune reconstitution post-BMT). I received PhD from Immunology in 2005. I was awarded "ISAC Scholar" in 2010 and "Joe T. Trotter Leader in Cytometry Technology" Award in 2022. I am a vice-president of Czech Society for Analytical Cytometry, former ISAC Council member and ISAC Life Education Task Force member; I am a member of Human Cell Differentiation Molecules council. Throughout my career I have been working with various flow cytometry based techniques (leukemia phenotyping, minimal residual disease monitoring, immune monitoring, immunodeficiency, bead-based affinity proteomics, algorithmic data analysis). I am a founding member of EuroFlow consortium where I am responsible for coordination of the technical aspects, design of flow cytometry procedures and Quality Assessment. I have authored over 100 research publications, delivered 40 invited lectures and lectured numerous educational workshops.
Henrik Mei
Dr. Henrik Mei is an immunologist with a focus on high dimensional analysis of immune cells by mass cytometry. He is a principal investigator and scientific head of mass cytometry at the German Rheumatism Research Center Berlin, Germany. His scientific interests and activities include high dimensional immune cell profiling in chronic inflammatory diseases, the advancement of assays and data analysis in mass cytometry, biobanking of cells, and the regulation of B cell responses and plasma cell homeostasis in the context of immunological memory. Henrik studied medical biotechnology at the Technical University of Berlin and obtained his PhD in immunology from the Humboldt University Berlin. He then performed postdoctoral works on human bone marrow plasma cells, and on mass cytometry at Stanford University. Henrik initiated the German Mass Cytometry Network, is a member of the Editorial board of Cytometry Part A, has been an ISAC scholar 2016-2021, and is vice president of the German Society for Cytometry.
Axel Schulz
Axel Schulz studied Molecular Biotechnology and Molecular Medicine and received in 2016 his PhD by studying the immune response in aged adults after Yellow Fever vaccination at the Charité, Berlin. Dissecting the human immune system in great detail, he became proficient in high-parametric flow cytometry. After a summer visit at the HIMC at Stanford University he extended this to mass cytometry and joined the first mass cytometry lab in Germany under the head of Henrik Mei at the German Rheumatism Research Center (DRFZ) in Berlin. He is deeply involved in developing new tools for mass cytometry and conducts various studies investigating the human immune system in both health and disease.